NDLR: Si vous cherchez plus de détails à propos de mon barème d'évaluation pour la Qualité Sonore et l'Impression Globale, veuillez lire quelques unes de mes chroniques précédentes
Mes acquisitions pour octobre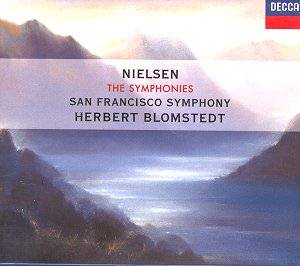 Nielsen Symphonies 1-6 - Blomstedt, SF Symphony
[Torrent]
Herbert Blomstedt a endisqué deux intégrales des symphonies de
Carl Nielsen
: pour EMI avec l'orchestre de la radiodiffusion Danoise (analogique) et celle-ci pour London/Decca avec le San Francisco Symphony (numérique). Si je dois choisir une intégrale préférée, je dois aller avec le cycle avec l'orchestre Danois, qui s'implique un tantinet plus que son homologue Américain. L'abandon du jeu de la cinquième sur EMI, toutefois, se trouve presque égalé par l'atmnosphère Californienne de la troisième chez le'orchestre de San Francisco. Je les recommande toutes les deux.
QS = A, IG = A-
.
Comme vous le savez déjà, j'ai un abonnement mensuel avec eMusic, et il arrive souvent qu'il me reste une ou deux plages non-utilisée à la fin du mois. Plutôt que de les perdre, je les utilise sur un projet "long terme", souvent un aklbum avec un nombre substantiel de pistes. Un de ces projets est l'album proposé ici - une cinquantaine de plages - qui assemble des oeuvres attribuées à un certain "Anonymous", ce compositeur (ou plutôt, l'ensemble des compositeurs) anonymes qui ont laissé un tollé de pièces a capella ou pour nstruments divers lors de la Renaissance. Les sélections ici sont surtout sacrées, mais il y en a un bbon nombre qui sont profanes. Dans l'ensemble, ceci vaut la peine d'examiner...
QS = A, IG = A-
.
Ferenc Fricsay conducts Mozart[eMusic]
Deux de mes suggestions pour octobre proposent le chef légendaire de l'orchestre de la radiodiffusion Berlinoise (ou l'orchestre de la RIAS), Ferenc Fricsay. Pour celui-ci, on retrouve Fricsay en pays de connaissance,
Mozart
. La Grande Messe en ut mineur est souvent négligée au profit du Requiem - quel dommage! On a ici une prestation publique radiodiffusée, proposant des solistes et un choeur en grande forme, soutenmus par un orchestre virtuse et un chef intelligent. Dommage pour la qualité du transfert numérique... QS =
A-, IG = A-
.
Hindemith, P.: Symphonische Tanze (Rias Symphony, Fricsay) (1951) / Stravinsky, I.: Firebird Suite (Swiss Romande Orchestra, Ansermet) (1950)
[eMusic]
Fricsay nous revient, cette fois en andem avec Ernest Ansermet, dans ce disque NAXOS Archive qui propose des radiodiffusions d'époque de musique dite "contemporaine". Le Hindemith est plutôt apprivoisé pour l'oreille du XXIe siècle, mais Fricasy sait faire chanter son orchestre. Ansermet et le Stravinski nous rappellent leur moultes collaborations. Notez le finale de cette suite 1917 de l'Oiseau de Feu, et combien les interprétations ont changé, optant pour un jeu plus sec et saccadé plutôt que la vogue saccharine entendue ici. Un bel album.
QS = A-, IG = A-
.
BACH-MARKEVITCH: The Musical Offering
[eMusic]
"Back to Bach" est représenté aujourd'hui par une autre "orchestration" d'une oeuvre majeure de
J. S. Bach
, dans le mode Stokowski. Igor Markevitch, reconnu pour son travail de chef, était un compositeur et arramngeur de talent, et ce disque est uin bel exemple d'une conception "vieille école" de la musique de Bach. Pour ceux qui aiment ce genre de choses...
QS = A, IG = A-
.