| | |
| --- | --- |
| | To mark the fifth anniversary of ITYWLTMT, we are undertaking a long-term project that will introduce - and re-introduce - musical selections in the context of a larger thematic arc I am calling "A Journey of Musical Discovery". Read more here. |
Today's is the final chapter in Part One of our ongoing Project, and the last of our "journeys without specific purpose".
Moonlighting
for some evokes images of Bruce Willis and Cybill Shepherd. Here it isn't about sexual tension - it's about the common use of the term:
people who hold more than one job
.
When we think of musicians and their jobs, three terms come immediately to mind -
performance
,
composition
and
education
. (We could also add administration to the list, but let's stop at those three..)
Through the ages, the musicians we have come to know and love play in two, if not three of these roles - Franz Liszt, Frédéric Chopin, and Sergei Rachmanino are three examples of pianist-composers. Vivaldi, Hummel and Salieri were "triple threats" as performers, composers and teachers.
The list goes on!
Today, let me single out five 20th century figures that we widely recognize as conductors who also have established themselves in other spheres.
André Previn (*1929)
A regular guest with the world's major orchestras, both in concert and on recordings, conductor, composer and pianist André Previn has held chief artistic posts with such orchestras as the Houston Symphony, London Symphony, Los Angeles Philharmonic, Pittsburgh Symphony and Royal Philharmonic orchestras. In 2009, André Previn was appointed Principal Guest Conductor of the NHK Symphony Orchestra.
As a pianist, André Previn enjoys recording and performing song recitals, chamber music and jazz. He has given recitals with Renée Fleming at Lincoln Center and with Barbara Bonney at the Mozarteum in Salzburg. He regularly gives chamber music concerts with Anne-Sophie Mutter and Lynn Harrell, as well as with members of the Boston Symphony and London Symphony orchestras, and the Vienna Philharmonic.
André Previn has enjoyed a number of successes as a composer. His first opera,
A Streetcar Named Desire
, was awarded the Grand Prix du Disque. Recent highlights include the premiere of his Double Concerto for Violin and Double Bass for Anne-Sophie Mutter and Roman Patkoló, premiered by the Boston Symphony in 2007. His Harp Concerto commissioned by the Pittsburgh Symphony premiered in 2008; his work "Owls", was premiered by the Boston Symphony Orchestra in 2008; his second opera, "Brief Encounter", commissioned by the Houston Grand Opera premiered in 2009; and his double concerto for violin and viola, written for Anne-Sophie Mutter and Yuri Bashmet, received its premiere in 2009. [
Source: Philadelphia Chamber Music Society
]
Listener Guide #118
features composer, pianist and conductor André Previn. Selections include works by Previn, Mozart and Gershwin. (I
TYWLTMT Podcast #257 - 29 Aug 2017
)
Mstislav Rostropovich (1927 - 2007)
Mstislav Rostropovich was a Russian cellist, pianist, conductor, pedagogue and political figure whose international performances and public appearances symbolized the struggle of intellectuals against the rigid Soviet Communism. His teachers at Moscow Conservatory were Dmitri Shostakovich, and Sergei Prokofiev, and both became his main musical influences for life. In 1951 Rostropovich was awarded the State Stalin's Prize, after his numerous victories at international competitions and a growing stream of recognition and acclaim.
In 1969 Rostropovich saved his friend, dissident writer Aleksandr Solzhenitsyn from prosecution. At that time Solzhenitsyn needed a place to hide from the Soviet authorities. An arrangement was made for Solzhenitsyn to live secretly at Rostropovich's dacha, a summer cabin outside of Moscow. This angered the Soviet Communists, and Rostropovich was banned from international tours and royalties. His performances in the Soviet Union were also banned, his income was drastically reduced, and his musical activity was limited to teaching. The Soviet authorities put severe pressure on Rostropovich by restricting his communication with the world and by ignoring his numerous invitations to perform at international festivals and competitions.
In 1974, after years of struggle with the Soviet dictatorship, Rostropovich fled the Soviet Union with his wife and two daughters, Olga and Elena. He became a much more relaxed person in exile, living the artistic freedom he had so longed for, and did not want to go back until the fall of the oppressive Soviet regime. In 1977 Rostropovich was appointed Music Director of the National Symphony Orchestra (NSO) in Washington, DC, the post he kept for the next seventeen years. Soon after Rostropovich became employed in the USA, his Soviet citizenship was revoked by Leonid Brezhnev in 1978. In 1990, Mikhail Gorbachev restored his citizenship allowing Rostropovich to return back home. His return happened during the most dramatic events of the collapse of the Soviet Union in 1991. He returned to the new Russia and continued his career as a musician and public figure. He lived in his homes in Moscow and in St. Petersburg and remained active in cultural and political life. [
Source: IMdB
]
Listener Guide #119
showcase Mstislav Rostropovich as cello soloist and as conductor in two works composed by his mentor, Dimitri Shostakovich. (
ITYWLTMT Podcast #260 - 29 Sep 2017
)
René Leibowitz (1913–1972)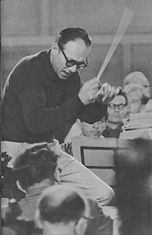 René Leibowitz was a noted Polish-born French composer, conductor, music theorist and teacher. His musical career began with the study of the violin at the age of 5. Between the ages of 9 and 13 he gave violin recitals in Warsaw, Prague, Vienna and Berlin, but his father decided to end his premature concert career, since he wanted his son to lead a normal life and not that of a child prodigy. On no account, however, did this diminish young Leibowitz's interest in music. His family sttled in Paaris in 1926. From 1930 to 1933 he studied composition in Berlin with Arnold Schoenberg and in Vienna with Anton Webern. He continued his daily practice and began to conduct as a young student in Berlin. Eventually he made Paris his home. There he studied composition and orchestration with Ravel (1933), and conducting with Pierre Monteux.
René Leibowitz made his debut as a conductor in 1937 with the Chamber Orchestra of the French Radio in Europe and the USA. René Leibowitz's repretoire as a conductor spanned virtually everything, including opera, from the Baroque to the most modern 20th century composers. Stamped by the spirit of the Viennese school, he considered faithfulness to the music as the highest standard of interpretation, a principle which must have collided head-on with the romantic ideals of contemporary concert practice. His achievements as a conductor were unique because of the uncompromisingness with which he expressed the modernity of the classical composers as well as the roots of modern composers in the traditions of the past. As condRuctor, Leibowitz was active in many recording projects. One of the most widely circulated and most notable is a set of the L.v. Beethoven symphonies made for Reader's Digest Recordings; it was apparently the first recording of the symphonies to follow L.v. Beethoven's original metronome markings. In choosing this approach, Leibowitz was influenced by his friend and colleague Rudolf Kolisch. Leibowitz likewise made many recordings for Reader's Digest in their various compilation albums.
As a composer, René Leibowitz adopted the 12-tone method of composition, becoming its foremost exponent in France. Many of the works of the Second Viennese School were first heard in France at the International Festival of Chamber Music established by Leibowitz in Paris in 1947. Leibowitz was highly influential in establishing the reputation of the Second Viennese School, both through activity as a teacher in Paris after World War II (in 1944 he taught composition and conducting to many pupils, including Pierre Boulez (composition only), Antoine Duhamel, and Vinko Globokar) and through his book Schoenberg et son ecole, published in 1947 and translated by Dika Newlin as Schoenberg and his School (USA and UK editions 1949). This was among the earliest theoretical treatises written on Schoenberg's 12-tone method of composition. Leibowitz's advocacy of the Schoenberg school was taken further by his two most gifted pupils, each taking different paths in promoting the musics of Schoenberg, Webern and the development of serialism, namely Pierre Boulez and Jacques-Louis Monod. His American students include the composers Will Ogdon, Janet Maguire, and the avant-garde film director-animator John Whitney. [
Source: Bach Cantatas
]
Listener Guide #120
showcases works composed by René Leibowitz, as well as one of his memorable Beethoven symphony recordings (
ITYWLTMT Podcast #255 - 11 Aug 2017
)
Igor Markevitch (1912-1983)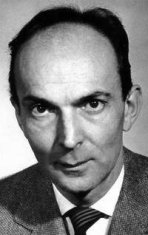 Igor Markevitch was a Ukrainian, Italian, and French composer and conductor. Born in Kiev, son of the pianist Boris Markevitch and Zoya Pokitonov, Markevitch moved with his family to Paris in 1914 and Switzerland in 1916. Alfred Cortot discovered his musical ability and took him to Paris in 1926 for training as a composer and pianist at the Ecole Normale , where he studied under Cortot and Nadia Boulanger.
Igor Markevitch gained recognition in 1929 when he was discovered by Serge Diaghilev, who commissioned a Piano Concerto from Markevitch and desired him to collaborate on a ballet with Boris Kochno. In a letter to the London Times Diaghilev hailed Markevitch as the man who would put an end to 'a scandalous period of music ... of cynical-sentimental simplicity'. The ballet project came to an end with Diaghilev's death on August 19, 1929, but Markevitch's works were accepted by the publisher Schott and he continued to produce at least one major work per year during the 1930's, being rated among the leading contemporary composers. He started being hailed as "the second Igor" - the first Igor being Igor Stravinsky.
Igor Markevitch collaborated on a ballet, Rébus with Leonid Massine (1931) and another, L'envol d'Icare (1932) with Serge Lifar; neither was staged, though both scores were performed as concert works. L'envol d'Icare, based on the legend of the fall of Icarus, which Markevitch himself recorded in 1938 with the Belgian National Orchestra, was especially radical, introducing quarter-tones in both woodwind and strings. (In 1943 he recomposed the work under the title
Icare
, eliminating these, rescoring and simplifying the rhythms.).
Igor Markevitch continued composing as war approached but fell seriously ill. After recovering, he decided to give up composition and focus exclusively on conducting.
Igor Markevitch made his debut as a conductor at age 18 with the Concertgebouw Orchestra Amsterdam. As a conductor, he was well-respected for his interpretations of the French and Russian repertory and of 20th-century music. He settled in Italy and became an Italian citizen. During World War II he was active with the partisan movement. He relocated again, to London in 1953, and then to Switzerland. Beginning in 1965 he worked for the Spanish RTVE Orchestra. [
Source: Bach Cantatas
]
Listener Guide #121
features works composed and contemporaneous works conducted by Igor Markevitch. (
ITYWLTMT Montage #248 - 26 May 2017
)
Leonard Bernstein (1918-1990)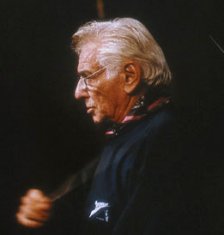 The prodgiously gifted American conductor, composer, pianist, and teacher, Leonard (actually, Louis) Bernstein, took piano lessons as a boy and attend ed the Garrison and Boston Latin Schools. At Harvard Universty, he studied with Walter Piston, Edward Burlingame-Hill, and A. Tillman Merritt, among others. Then at the Curtis Institute of Music in Philadelphia, he studied piano with Isabella Vengerova, conducting with Fritz Reiner, and orchestration with Randall Thompson. In 1940, he studied at the Boston Symphony Orchestra's newly created summer institute, Tanglewood, with the orchestra's conductor, Serge Koussevitzky. Bernstein later became Serge Koussevitzky's conducting assistant.
In 1945 he was appointed Music Director of the New York City Symphony Orchestra, a post he held until 1947. After Serge Koussevitzky died in 1951, Bernstein headed the orchestral and conducting departments at Tanglewood, teaching there for many years.
In 1956 Leonard Bernstein was engaged as associate conductor of the New York Philharmonic orchestra with Dimitri Mitropoulos, and became his successor as Music Director of the New York Philharmonic in 1958. From then until 1969 he led more concerts with the orchestra than any previous conductor. He subsequently held the lifetime title of Laureate Conductor, making frequent guest appearances with the orchestra. More than half of Bernstein's 400-plus recordings were made with the New York Philharmonic.
Leonard Bernstein was a leading advocate of American composers, particularly Aaron Copland. The two remained close friends for life. As a young pianist, Bernstein performed Copland's Piano Variations so often he considered the composition his trademark. Bernstein programmed and recorded nearly all of the Copland orchestral works - many of them twice. He devoted several televised "Young People's Concerts" to Copland, and gave the premiere of Copland's Connotations, commissioned for the opening of Philharmonic Hall (now Avery Fisher Hall) at Lincoln Center in 1962.
While Bernstein's conducting repertoire encompassed the standard literature, he may be best remembered for his performances and recordings of Haydn, L.v. Beethoven, Johannes Brahms, Schumann, Sibelius and Gustav Mahler. Particularly notable were his performances of the G. Mahler symphonies with the New York Philharmonic in the 1960's, sparking a renewed interest in the works of G. Mahler.
Inspired by his Jewish heritage, Leonard Bernstein completed his first large-scale work: Symphony No. 1: Jeremiah. (1943). The piece was first performed with the Pittsburgh Symphony Orchestra in 1944, conducted by the composer, and received the New York Music Critics' Award. Koussevitzky premiered Bernstein's Symphony No. 2: The Age of Anxiety with the Boston Symphony Orchestra, Bernstein as piano soloist. His Symphony No. 3: Kaddish, composed in 1963, was premiered by the Israel Philharmonic Orchestra. Kaddish is dedicated "To the Beloved Memory of John F. Kennedy." He also wrote many other compositions for various combinations, including orchesral, choral, chamber and piano works, song cycles, operas, scores for movies, music for ballett, incidental music for plays, musicals, and more. [
Source: Bach Cantatas
]
Listener Guide #122
is a re-creation of the Tanglewood concert held on 19 August, 1990 - Leonard Bernstein's last public performance. conducted his last concert. (
ITYWLTMT Montage #18 - 19 Aug. 2011
)