In English: http://www.talkclassical.com/blogs/itywltmt/1356-la-chronique-du-disque.html
NDLR: Si vous cherchez plus de détails à propos de mon barème d'évaluation pour la Qualité Sonore et l'Impression Globale, veuillez lire quelques unes de mes chroniques précédentes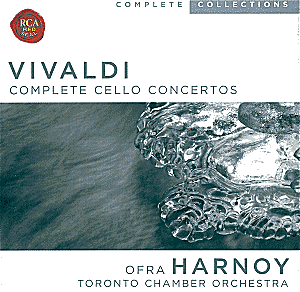 Vivaldi Complete cello concertos Ofra Harnoy Toronto Chamber Orchestra

[

Torrent

]
La violoncelliste canadienne Ofra Harnoy a enndisqué l'intégrale des concerti pour violoncelle de Vivaldi durant les années 1990, ceci incluant des double concerti accompagnée par Igor Oistrakh, et ces disques furent réunis dans une collection offerte par la société RCA en 2005. L'approche utilisée ici n'est pas dans la veine « authentique », mais implique un orchestre de chambre à proportions modestes, et ceci me suffit amplement. Nous sommes beaucoup plus familiers avec les concerti pour violon du prêtre Rouquin, et cet effort de Mme Harnoy nous rapelle que Vivaldi sait s'adapter au timbre plus rauque de son instrument.
QS = A, IG = A
.
Singer Portrait - Maureen Forrester, Vol. 2

[

eMusic

]
Dans le folklore musical, on rappelle un projet Mahler conçu par le regretté Bruno Walter et une chanteuse canadienne qui faisait alors sa marque, la contralto Maureen Forrester. Pour des raisons contractuelles, le projet ne se réalisa jamais sur disque – Mme Forrester s'exécutera en public avec Walter dans les chants du compagnon errant et les Kindertottenlieder, et confiera à Charles Munch l'accompagnement sur disque. L'essentiel de l'album proposé est une réédition de ce rendez-vous, complété avec d'autres Mahler sous Fritz Reiner et Walter. A mon avis, personne ne vient à la cheville de Mme Forrester dans ce répertoire si bien adapté au timbre sombre de sa voix, sa diction impeccable et son sens de projection lyrique. La dernière piste du disque, un Delius sous Beecham, est malheureusement abîmé par un ordinateur loquace. Si on fait fi de cette bévue technique, j'offre à cet album les notes suivantes : QS = A, IG = A+.
Canadian Modern Premiere Recordings: Morel, Somers, McPhee, Weinzweig, Hétu, Healey

[

eMusic

]
L'orchestre de Louisville au Kentucky ne fait pas le palmarès des grands orchestres Américains, mais il se distingue par une initiative bien en avant de son temps. En effet, en 1953, on lui fait l'octroi de $500,000

qu'ils utilisent pour faire des commandes de nouvelle musique, et les endiusquer sur leur label maison First Edition Recordings établie vers la fin des années 1940. L'orchstre recevra pliusiweurs proix pour son dévouement à la cause, et on ne devrait poas se surprendre que l'orchestre a endisqué des œuvres canadiennes. Ce disque proposem entre autresm une performance (la seule si je ne m'abuse) du premier concerto pour piano du regretté Jacques Hétu. Sur ce disque, en plus de chefs en résidence de l'orchestre, on retrouve Pierre Hétu (aucune relation), un des chefs canadiens dominants de sa génération. Je souligne l'excellent travail de l'orchestre, qui semble plus convaincu par cette musique que beaucoup d'orchestres canadiens qui sont souvent obligés de programmer ces titres. Belle trouvauille.
QS = B+, IG = A-.
Denis Gougeon est uin compositeur québécois fort actif et recherché. Ce disque du label Cebntrediscs du Centre de Musique Canadienne regroupe des titres de Gougeon, la plupart sous la direction de Walter Boudreau et son orchestre de la SMCQ.
On touche à tout : orchestre, chambre, chants.
C'est ici un disque où touit est bien en place et on est respectueux des désirs du compositeur. Un disque de musique fort accessible.
QS = A, IG = A.
Frenergy - The Music of John Esacio

[

eMusic

]
Passons de l'Est du pays à l'Ouest, et au compositeur John Estacio. A un certain moment,m comme Denis Gougeon, Estacio était compositeur en résidence d'un orchestre majeur (à Calgary), et j'ai déjà présenté dans nos pages son opra Filumena. En fait, la plage Bootlegger's Tarantella est une pièce qu'Estacio compose en prévision de cet opéra – vous y reconnaîtrez certaines mélodies, et fut tout simplement publié comme un avant-goût de ce projet. D'autres titres font le disque, et ils sont tous interprétés avec soin par le regretté Mario Bernardi.
QS = A, IG = A.

Notre dernière chronique pour 2013 (et mon dernier billet officiel « en français » sur ITYWLTMT. Bonne année 2014 à tous!