=====================================================================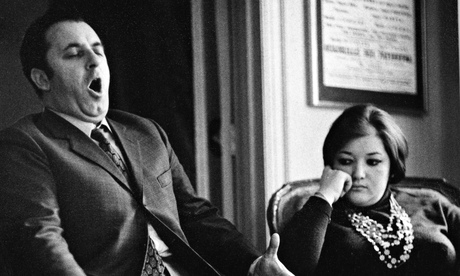 With the exception of next week's podcast of Brittten's War Requiem, all of our montages this month pay tribute to artists we have lost over the last calendar year. To begin, we take a few moments to remember the great Italian operatic tenor Carlo Bergonzi who died on 25 July 2014, aged 90. The below highlights are stolen from his
obituary
.
There was no finer interpreter of Donizetti's, Verdi's and Puccini's tenor roles throughout his long career than Carlo Bergonzi. His singing of all three composers' music evinced an innate sense of how to mould an immaculate line projected on a long breath, an exemplary clarity of diction, and an authoritative use of the particular style called for in interpreting a role. Over and over again, you could hear, and can still hear on his many recordings, how to shape a phrase and to do so with a voice of intrinsic beauty, flawlessly produced, so no effort seemed involved. Far from being a macho tenor, he was the aristocrat of the breed and as such universally admired, even if he did not evoke the visceral excitement of his near-contemporaries, Franco Corelli and Luciano Pavarotti.
He was born in Vidalenzo, northern Italy, and looked likely to become a cheesemaker like his father until his voice was discovered. After service in the Italian army during WWII, and a period as a prisoner of Germany, he trained as a baritone and began his professional life in that mode, making his debut as Rossini's Figaro in 1948. By 1950 he concluded that he might really be a tenor and retrained, making his first appearance in his new range in Giordano's Andrea Chénier in 1951, the year he was also engaged to sing a tenor part in I Due Foscari for Italian radio celebrations of the 50th anniversary of Verdi's death. The voice still sounds there a shade tentative, but by 1953, when Bergonzi made his debut at La Scala and appeared, as Don Alvaro, in La Forza del Destino at the old Stoll theatre, London, the transformation was complete. He was acclaimed as a new tenor of real worth.
In 1956 he made his debut, as Radames in Aida, at the Metropolitan Opera in New York, and continued to sing there for more than 30 years, evidence of the security of his technique and the fact that he was careful not to force his voice out of its natural range and strength. One of his last roles, in 1988, was Rodolfo in Luisa Miller, suitably enough as his account of the famous tenor aria in that opera was always a model of Verdian style.
Bergonzi was just as affecting in a lighter vein. His Nemorino (L'Elisir d'Amore), caught late in his career, at the Royal Opera House, in 1981, was endearing. His performances, in recital, of Italian song were enchanting in their intimacy and delicacy of manner. Pieces such as Mascagni's Serenata or Tosti's L'Alba Separa Dalle Luce L'Ombra were the pure essence of Bergonzi, and he delighted in conveying his joy in singing them to his audiences.
Bergonzi recorded extensively. His lasting memorial will surely be his performance for Philips of all the tenor arias in Verdi's operas. His sovereign Alvaro is preserved on an EMI set of La Forza del Destino, his Radames on Herbert von Karajan's Decca set of Aida, his classic Rodolfo on a Decca Bohème, and his Cavaradossi on Callas's second set of Tosca, for EMI. These, plus a legendary recital dating from 1958 for Decca, provide the essence of his great art.
Today's montage really has three distinct parts. The first few selections are of Neapolitan songs, a fine display indeed of Bergonzi's ability to project and use his voice to convey the bittersweet feelings often carried by those ballads. Listen closely to how the voice trembles at the climax of Cardillo's ode to the ungrateful heart. What a voice!
An extended portion of the montage is dedicated to an entire recital of Bergonzi singing music from the Italian baroque, and baroquie opera. Again, these are conveyed with such conviction, elevating these songs to the level of the late romantic composers that will follow them.
Of course, a tribute to Bergonzi would be incomplete without sampling him in Verdi arias. Nobody – I mean nobody – sings Verdi with such verve and passion, none before, and none since.
I think you will love this music too.